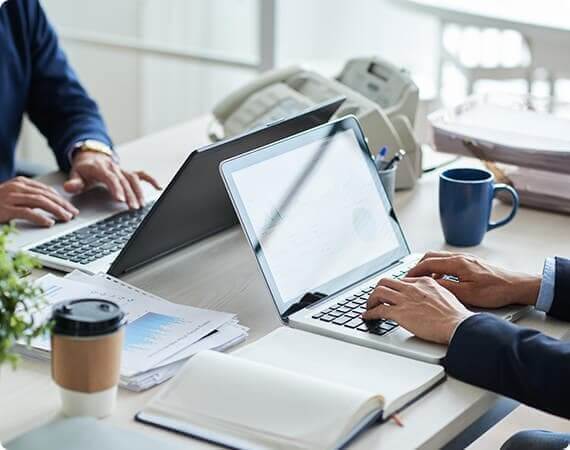 Give your global business visibility via eCommerce
The Big Byte Innovations Pvt Ltd (BIPL) is a prominent ecommerce development company offering reliable services that shape your business ideas to excel potential of success. We ensure full-fledged e-commerce solutions that make your business two-way communication. We build interactive websites that persuade potential customers' active engagement.
Simplifying interaction between customers and your business
BIPL follows an entirely different approach to building scalable, modern and secure e-commerce websites for the business. We implement innovative strategies to deliver customised eCommerce websites.
Big Byte implements a multi-currency and multilingual marketplace for continuous collaboration between sellers and customers. We help suppliers manage their goods and services with ease with our services.
Our experts create featured B2B portals to unite all trading stakeholders like manufacturers, wholesalers, suppliers and end-users within a centralised hub. We ensure the secure formation of multichannel global trade.
WooCommerce is a wordpress plugin that simplifies the creation and management of online stores. It offers reasonable flexibility and several essential features such as secured payments and shipping integration.
Magento is Adobe open-source eCommerce platform written in php. It offers a multichannel facility for both B2B and B2C businesses on a single platform. Grasp the power of Magento with the help of Big Byte web developers.
 Magento is Adobe open-source eCommerce platform written in php. It offers a multichannel facility for both B2B and B2C businesses on a single platform. Grasp the power of Magento with the help of Big Byte web developers.
Shopify is the platform to sell products online on Facebook. It offers complete reliability to manage orders, staff, and products from your own space. Our Shopify experts help you to leverage the power of Shopify to build profitable online stores.
BIPL follows a dedicated approach to accurately analysing key performance indices of your e-commerce website. We properly analyse performance and discover loopholes in your business websites.
Ecommerce aggregators and marketing suites
We are expertise in building ecommerce aggregators and marketing suites. Aggregators manage and host diverse brands securely making the promotion easy, while the marketing suite helps optimise the website.
With elegant UI, low bounce rate and maximum engagement, Big Byte have created several multi-vendor platforms. Advanced functionalities and noticeable features are integrated facilities we offer in multi-vendor platforms.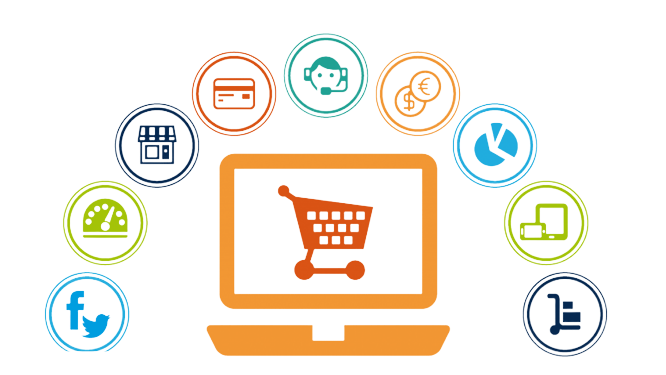 Our services cover all significant industries of eCommerce development, such as
Grocery store app development
Restaurants
Fashion & Clothing
Jewellery store
Travel & Tourism
Online booking
Medical & Pharmacy
Our eCommerce solutions are reliable for all businesses, whether small and mid-scale businesses or enterprise-grade businesses.
End-to-end managed eCommerce Solutions
You can't simply wait for customers to come to you. Instead, it's better to figure out where they are, go there and bring them to your store.
Understanding business uniqueness
Every business is unique, having its USP 'Unique Selling Proposition.' BIPL adhere to building eCommerce websites for a business that reflect it in the best way. We understand the importance of attractive design and fast loading product catalogue providing precise information.
Visually attractive website
To hold the audience to your website for a long duration and maximise purchase chances, we impart websites with top-notch graphics and high-quality elements. It has high potency in delivering brand essence that resonates with the targeted audience.
Responsive website with high compatibility
Big Byte ensures to deliver responsive websites that are compatible with all devices and browsers with a fast loading speed. This will clinch higher engagement of users visiting your website via different devices and browsers.
For an ecommerce website, website security and data protection are vital. This encourages more engagement of users by building trust. Being a renowned web development company, Big Byte provides immunity to your website from the cyber crisis with robust data security.
Affordable and reliable services
Our specialised SEO tactics for eCommerce websites provide higher conversion rates and reduce cart abandonment. Also, we at Big Byte are determined to provide the best client support services to the online store of our clients
Shopping Cart development integrated with payment gateway
BIPL efficiently develops shopping carts for your business with customer-centric features. Also, we provide a payment gateway system that caters to business needs and forms a strong global customer base.
Caters need the business efficiently
As India's leading ecommerce development agency, we help both B2B and B2C businesses expand their business and boost sales. We follow an agile eCommerce development approach which suits you well.
Our team is expertise in diverse technologies. We strikingly provide our clients with future-ready ecommerce websites. Our services involve the usage of modern tools and technologies.
Social media is a trending medium to indulge shoppers with your website. Therefore, we integrate your eCommerce website with social media so that you don't miss any way to engage your business with today's social shoppers.
Being a top ecommerce development company, Big Byte offers a holistic approach to designing and developing websites that are appealing and easy to navigate, fast and responsive.
We strive to create an engaging atmosphere for your customers with our eCommerce development services.
To sell a product digitally, a company website must provide a unique and interactive experience that can leave a mark on the customer's mind. BIPL offers completely managed eCommerce solutions with excellence.
Big Byte Innovations Pvt Ltd guides online entry strategy for your business to reach an extensive array of customers. Take advantage of our reliable and affordable services to develop a whole ecosystem, enabling you to directly sell products to your customer.